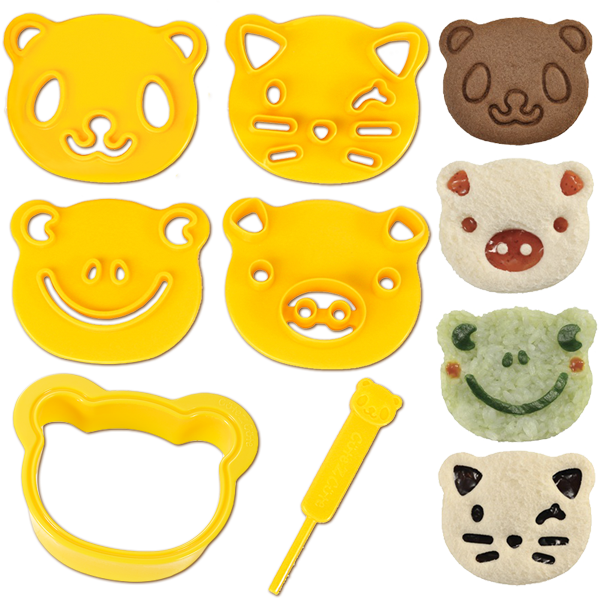 Animal Friends
Sandwich Cutter & Cookie Stamp
The CuteZCute Animal Friend, the original

 

all-in-one bento tool inspired by the feedback from the bento community. Whether you're a beginner or a pro, this set is a great addition to any tool collection to make cute food quickly and easily.

  
Work with most types of bento-er's needs from bread, cookie, rice, sliced meat and cheese, pancake, thin-sliced vegetable, fruit leather, watermelon and more.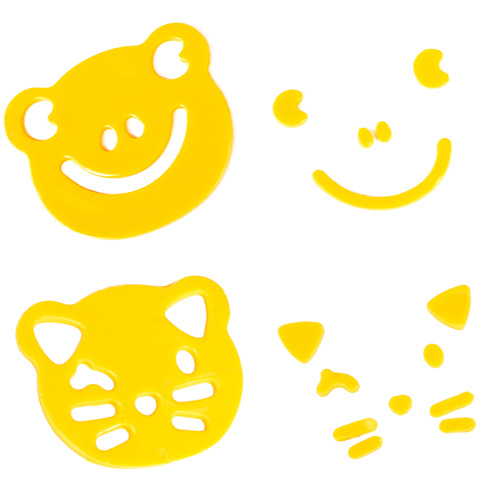 Get Creatives
Small cutouts can be rearranged to create many more fun shapes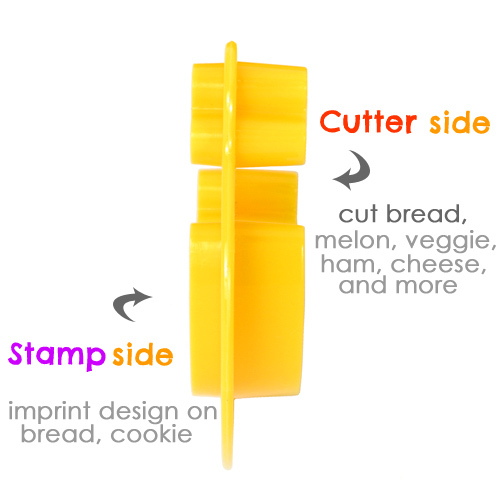 2-sided
One side for cutting, the other side is for stamping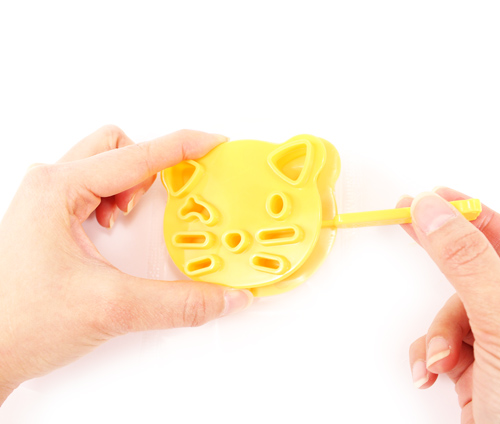 Panda Food Pcik
Use this tool to help remove small cut-outs from the cutters. 
With each 6-piece set you get:
1 Head Cutter
♥ Use to cut almost any food, including bread, sliced cheeses, pancakes, thinly sliced fruit, cookie and pie dough, fondant or gum paste, and so much more!
1 Food Pick
♥  Use this tool to help remove small cut-outs from the cutters. 
4 Animal Face Cutters/Presses
♥  Use these to cut facial features out of your cut head shape, or cut features to add on, or use the press side to imprint the faces instead!
You can use these to imprint on anything pliable enough, like pie or cookie dough, melon, eggs, and soft fresh bread (does NOT work well on drier or crumbly breads. ) Or imprint onto rolled fondant or gumpaste for cute cake or cupcake decorations! With a little food coloring and ingenuity, you can even use the press tools as food stampers!
Create sandwich size 3.1 x 2.7 inch wide. (for face)
Important
To have a clean cutout, while pressing down, rotate cutter left and right, wiggling until bread is completely cut. 
Cutting function works with most bread style. Firmer breads like seed or gluten-free breads are not ideal for stamping function.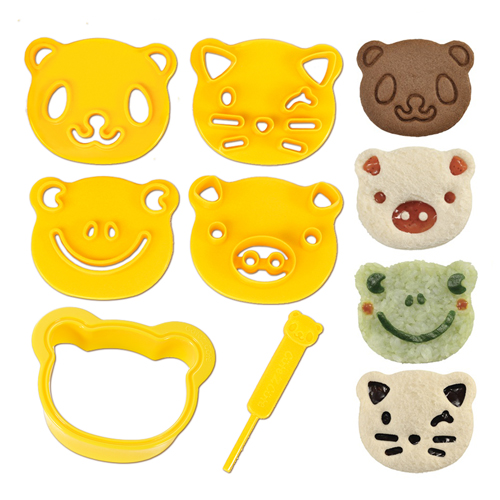 FREE shipping
via AMAZON.com
(some restrictions apply)
Picky Eaters - willing to try new food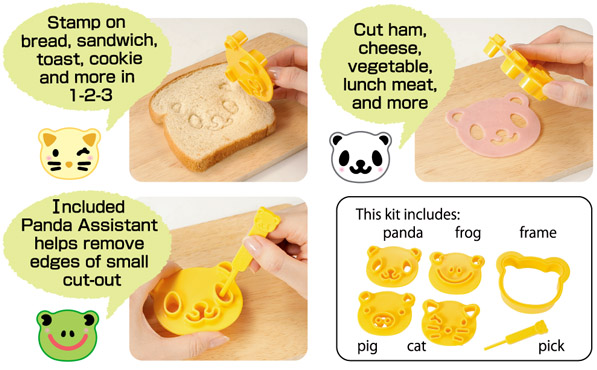 How to use
For stamping, use the stamp side to press on soft bread or use as pastry press. This function allows you to create cute bread within a few seconds. For example, breakfast toast or sandwich. Great for busy persons
For cutter, use the longer bevel side of the cutter to cut or punch. Use the assistant pick to tap on food to help release the food out of the cutter without damaging the shape. The small cut-out can be used to create many different shapes and characters.
 When cutting delicate food like cheese, use the included panda assistant pick and apply small pressure to tap out the food. Multiple taps around the edges of the shape will help clean release of the food out of the mold.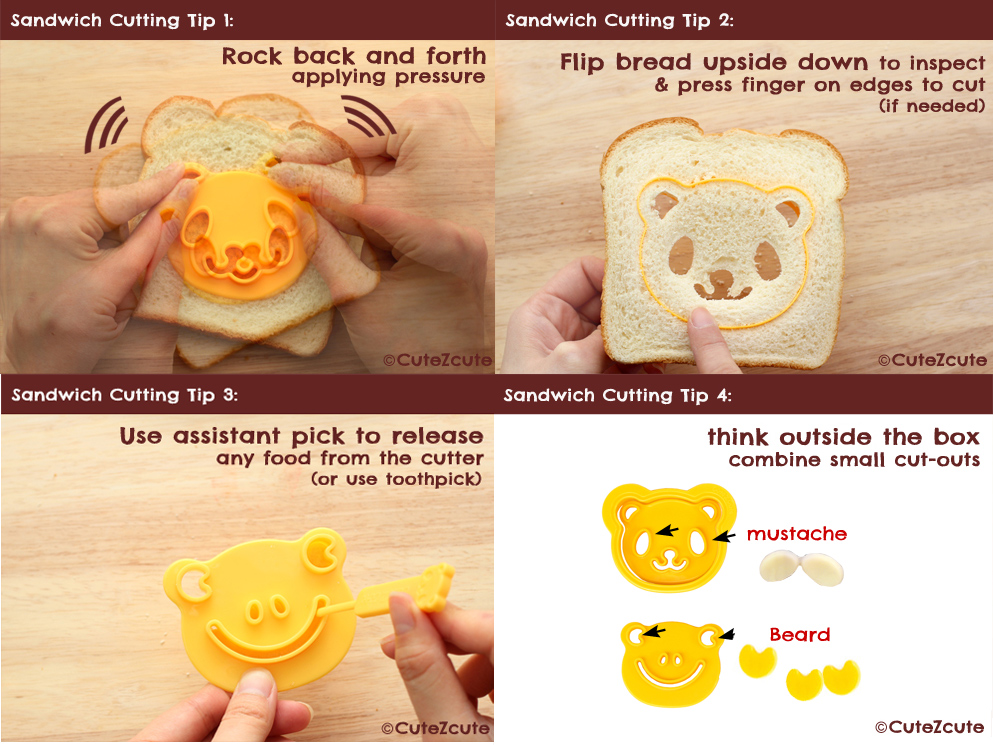 Tips
Keep in the frame cutter as the guide to ensure the exact position of the cute animal faces.
Stamp function works great on soft bread.
When playing with bread, if your favorite bread is not soft, you may warm it up in microwave for 5-10 seconds.
Dishwasher safe
FDA certified by SGS
BPA, Phthalate, PVC and Lead Free.  
100% recyclable packaging
Made from High Quality Food Grade Polypropylene (PP)
100% Food Safe
Designed in USA
Size
– Frame is 3 7/8 x 3 1/8 inch wide x 1 1/16 inch deep
– Each cutter is 3.50 x 3.75  x 1.29 inch deep
– Assistant pick is 3.25 inch long
check out
Other
CuteZCute Product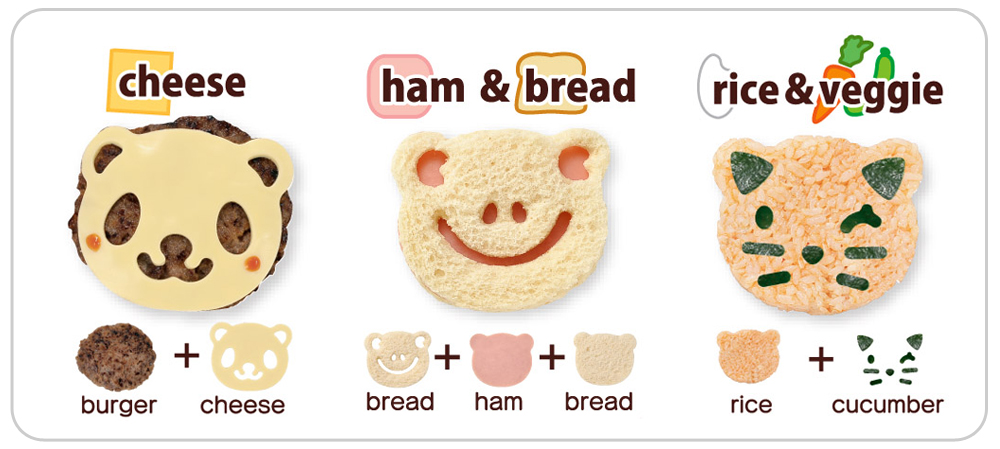 FREE shipping
via AMAZON.com
(some restrictions apply)
International
 shipping
via BentoUSA.com
(ship in US & worldwide)