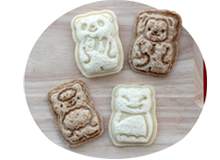 Pocket Sandwiches
Panda, Panda with Baby Panda, Monkey, Sheep, and Bat shapes.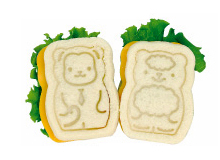 Normal Sandwiches
The presses can be used on traditional (non-seal) sandwiches, as normal bread stamp.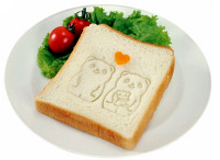 Fun Toast
Give life to a sliced of bread, ready in seconds.
Press longer for cleared imprint.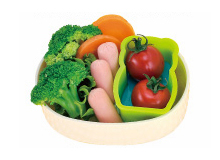 Small Food Cup
After you've made your adorable lunch, the sealer and base can fit together to become a divider cup in your lunchbox!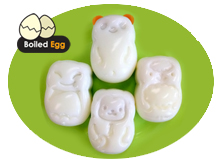 Egg Mold
Shape hard-boiled eggs – Panda, Bat, Monkey, and Sheep shapes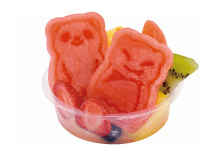 Watermelon
Imprint fun Animal Palz characters into fruit that works great for parties and packed lunches.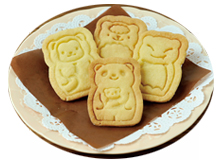 Cookie
Use as cookie cutter/cookie stamper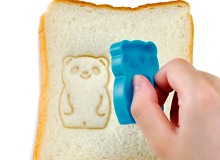 Easy to hold
Presses with easy-to-hold handle
With each 8-piece set you get:
1 Cutter
♥  Use to cut almost any food, including bread, sliced meats and cheeses, pancakes, thinly sliced fruit, cookie and pie dough, fondant or gum paste, and so much more!
1 Sealer
♥  Combine with other parts of this kit, can be used to seal pocket sandwiches or mini pies; and mold hard boiled eggs, rice, hamburger, and more!
1 Base
♥  Combine with other parts of this kit, can be used to mold hard-boiled eggs, or used as food cup.
4 animal imprint press plates
♥  (sheep, monkey, bat, and panda,) plus a bonus baby panda press!
– Easy to hold with handle
– You can use these to imprint on anything pliable enough, like pie or cookie dough, melon, eggs, and soft fresh bread (does not work well on drier or crumbly breads.) Or imprint onto rolled fondant or gum paste for cute cake or cupcake decorations! With a little food coloring and ingenuity, you can even use the press tools as food stampers!
Important
To have a clean cutout, while pressing down, rotate cutter left and right, wiggling until bread is completely cut.
Cutting function works with most bread style. Firmer breads like seed or gluten-free breads are not ideal for stamping function.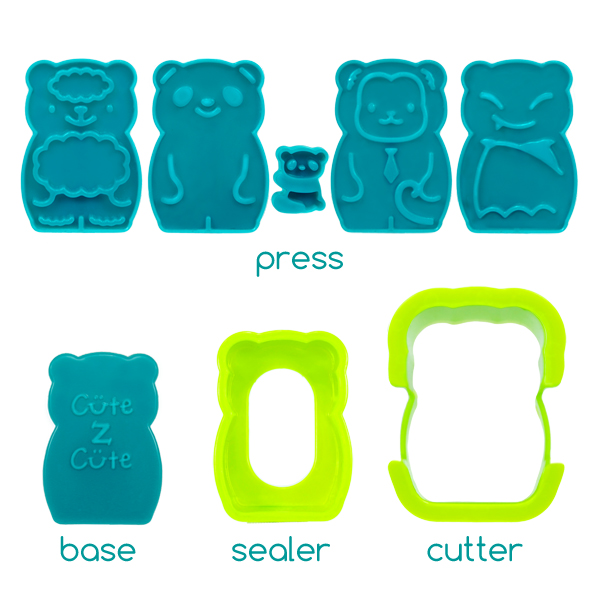 FREE shipping
via AMAZON.com
(some restrictions apply)
1 Set shapes
Eggs

& makes

Pocket Sandwiches
Video Tutorial
How-to shape Hard-Boiled Eggs
below
↓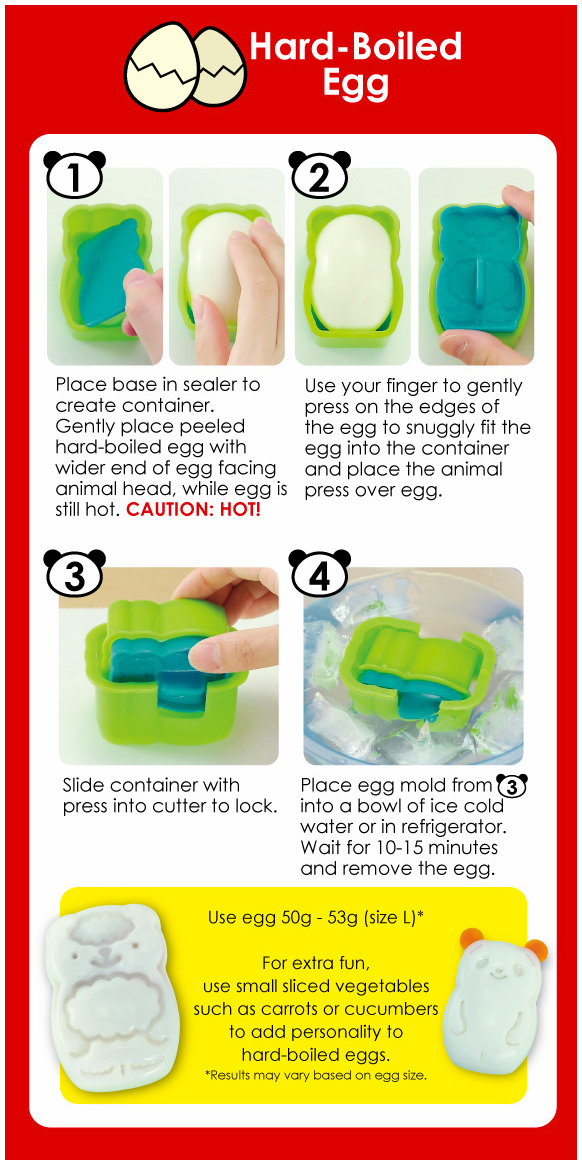 Video Tutorial
How-to make Pocket Sandwiches
below
↓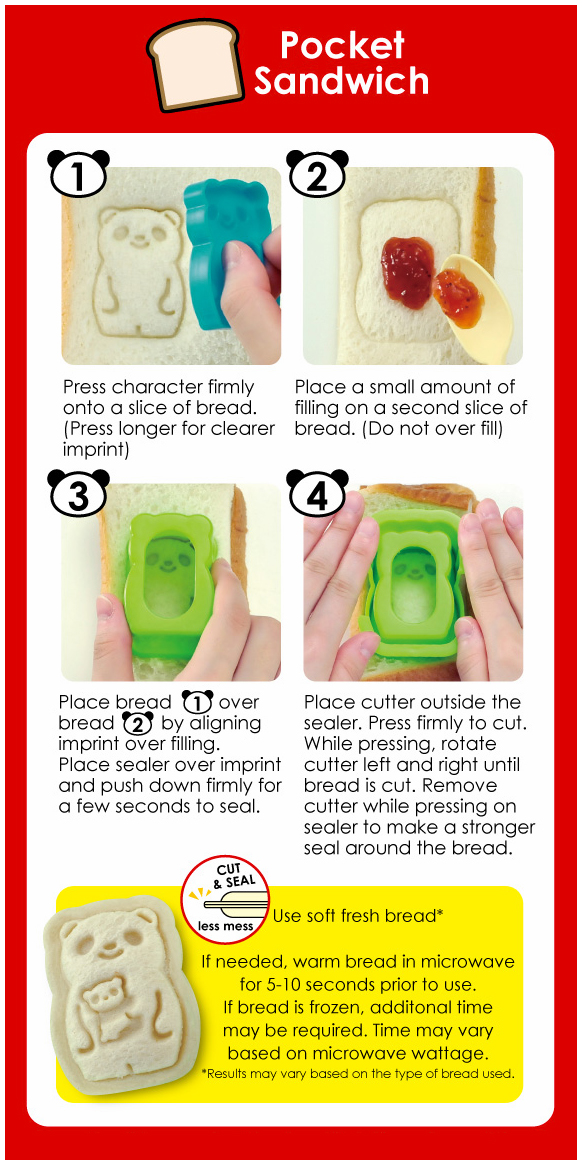 Used together, the sealer, base, and press of your choice can mold and imprint an animal design onto a hard-boiled egg. Or use everything together to imprint, seal, and cut mini pocket sandwiches! (please note that firmer breads like seed and grain breads or gluten-free breads are not ideal for this purpose.)
This product is made with FDA approved food-grade material, and is also BPA-free. When used as a food cup, these are also freezer-safe. But most importantly, they're top-rack dishwasher-safe!
Most bento tools are very specialized – good for one technique only. But with this versatile set, you can always find a creative and easy way to include it as part of your fun meal!
Designed in USA
Made in China
Tips for making sandwiches
Like other sandwich press, best use with soft fresh bread.
If needed, warm bread in microwave for 5-10 seconds prior to use.
If bread is frozen, additional time may be required. Time may vary based on microwave wattage. Results may vary based on the type of bread used.
Tips for shaping hard-boiled eggs
Use egg size L-XL (50g-53g)
Use small sliced vegetables such as carrots or cucumbers to add personality to hard-boiled eggs.
FREE shipping
via AMAZON.com
(some restrictions apply)
International
 shipping
via BentoUSA.com
(ship in US & worldwide)
check out
Other
CuteZCute Product