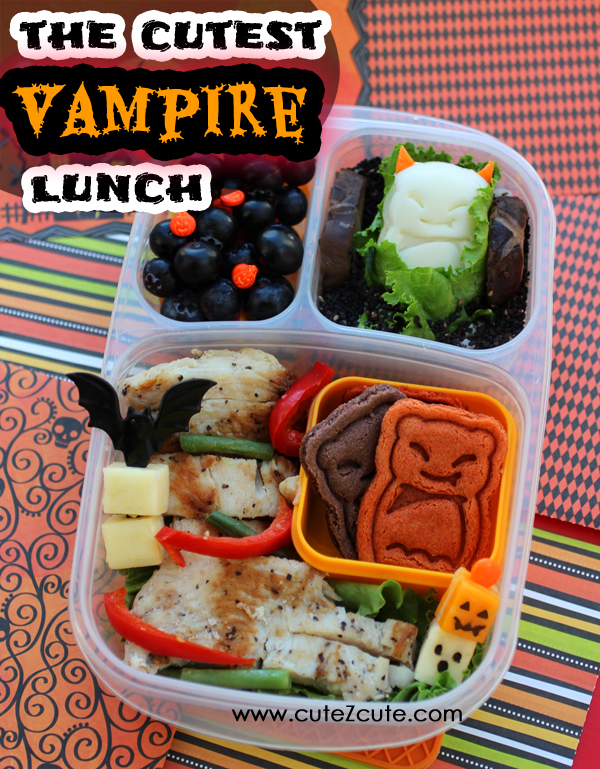 One of my favorite themes of the year is Halloween. It is just full of fun and many possibilities for creating a spooktacular bento lunch.
Above is my leftover from the weekend, I went to Ono Hawaiian BBQ and got this yummy lemon pepper chicken.  The large compartment of Easylunchboxes is filled with green leaf, lemon pepper chicken, red pepper, green bean, and cube cheese sticks. I separate this large compartment with this yellow snack box, and filled with CuteZcute bat cookies for little treat.
The smaller compartment features the cutest vampire hard-boiled egg. He is sleeping and wrapped in a green leaf coat. I added a little carrot ears for him to make it more fun. He is laying on the top of rice and black sesame seeds.  With blueberry and peach slices.
How to SHAPE HARD-BOILED EGG into animal shape (Video)
Vampire (or bat) shaped… ✔ hard-cooked eggs, ✔ sandwiches, ✔ cookies …All are made using
CuteZcute Animal Palz Mini Sandwich and Egg Press
Below is mini pocket sandwiches filled with Nutella, strawberry jelly, and cheese (each in 3 different pocket sandwiches), with another vampire hard-boiled egg. Serve with Pumpkin carrot green leaf salad in Goodbyn Bynto container.  The blueberries are stored in the CuteZcute food cup (sealer and base pieces combine together). Don't forget to check out the video on how to make this mini pocket sandwiches.
❤ Sandwiches with sealed edges ❤
❤ Crust free & Less mess ❤
How to make mini POCKET SANDWICH (Video)
Buy Now at Amazon
Want some more fun Halloween (Fall) bento lunch idea,
click the button below to hop to Glory's Mischief bento blog and other fabulous bento bloggers & friends.