This CuteZcute nori cutter set includes 3 deluxe designs of seaweed punchers. You can now cut your nori or seaweed to be a happy smile face to show how wonderful and cute your food is. It is simple with the EZ Fun Face Deluxe Seaweed Punchers to create endless Deco Are foods.
Puncher sets are made form a high quality Zink with a food safe plastic.
Tip:
– Mix and design your own special face using toothpick.
– Smily lip shape can be decorated as hair, use multiple of them to create thicker girl's hair
– Smily lip shape can be also decorated as eyebrow
– and many more
Size – 2.15 inch long x 1.65 inch wide (Each puncher size)
Eye size (after punched) 0.35 inch wide (create bigger eyes if compared to other more economical nori puncher)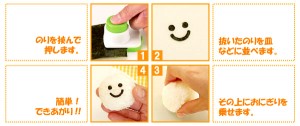 Size – 2.15 inch long x 1.65 inch wide (Each puncher size)
Eye size (after punched) 0.35 inch wide